Manufactured Salt Brine (MSB)
Manufactured Salt Brine (MSB) is a straight Sodium Chloride Brine produced specifically for pre-wetting and anti-icing applications. You can manufacture salt brine at your own brine production facilities using pure rock salt and potable water.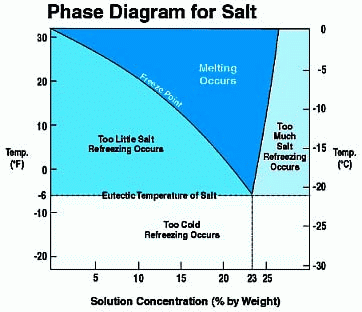 MSB has a sodium chloride concentration of 23% +/- 0.3%, making it ideal for its intended use as a pre-wetter and anti-icing solution. The eutectic point of 23.3% sodium chloride brine is approximately -21° C.
There are no other added chemicals in MSB – only water and rock salt. With consistent salt brine such as this, you can now reduce the risk of unexpected re-freeze and slippery road conditions due to inconsistent chloride blends.
Accurately recording and analyzing the results of your snow fighting efforts is now an integral part of every Salt Management Plane. KNOW YOUR BRINE!
Inquire about our full line of Brine Storage Tank options and Transfer Pumping Systems. M.S. Foster & Associates, Inc. offers full turnkey brine making system installations at competitive prices.