Voyager® Vehicle Camera System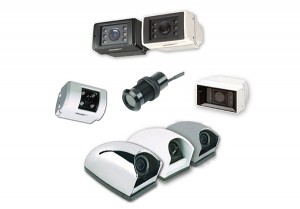 Voyager® Vehicle Camera System
The Voyager Vehicle camera monitoring systems have been designed for rigorous automotive, recreational, truck, marine, construction, and agricultural applications. The vehicle camera systems are engineered and tested to perform in demanding conditions, while providing you with convenient, quality camera system products.
The Voyager camera monitoring system can be installed as either a rear or side-body system to aid in the backup process. The rearview backup vehicle camera system displays video in either color or black and white formats. The rear color and black and white CCD vehicle camera systems have a viewing distance of 150 degrees, while the rear color tilt cameras provide two positions built into a waterproof die cast aluminum housing. Alternative camera systems are available, providing reversed image orientation and an NTSC video output signal. These two camera monitoring systems, the Super CMOS Color Cylinder and Rear Color CMOS cameras, are waterproof and are powered with a
12 volt DC battery.
| Wireless Rear Camera Systems with Auto-Pairing | Wireless Auto-Pairing Overview |
| --- | --- |
| | |
| CVRPS14 Rear Sensor System | See 360 Camera System |
| | |
The vehicle camera monitoring system is also available in a side body capacity for the left side, right side, and top of automotive, recreational, truck, marine, construction, and agricultural equipment.
The vehicle camera system can become an effective camera monitoring system through the installation of observation monitors. The 5.6″ heavy duty LCD color observation monitor is the smallest monitoring system, equipped with brightness and camera
selection controls, a built-in speaker, and a 4:3 aspect ratio. The 7″ heavy duty waterproof LCD color observation monitor provides users with a larger viewing format, day and night brightness modes, anti-glare and anti-scratch protective lenses, and multiple mounting options. The 7″ heavy duty, multi-screen LCD color observation vehicle camera monitoring system provides users with the greatest control. The camera monitoring system offers 4 camera inputs, with single, dual, tri-, and quad-screen
viewing capabilities, compatible with a motorized tilt camera.
The Voyager camera monitoring systems are ideal for protecting your property and investments, as well as ensuring the safety of your drivers and those driving nearby. The vehicle camera systems can help improve backup safety, reduce truck backing accidents,
and reduce driver and vehicle downtime related to accidents.
CALL FOR PRICING: (888) 452-4053