T2000SD Long Range Alignment Laser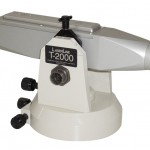 The ideal laser alignment solution! The LaserLine T2000SD is perfectly suited as a tunneling laser, mining laser, offshore dredging laser, conveyor alignment laser, and a centerline control laser.
T2000SD
The LaserLine T2000SD is a heavy-duty "building block" design, built for the rigors of even the toughest construction environments. The T2000SD may be added to from its basic configuration, depending upon the needs of your particular job or application.
The LaserLine T2000SD laser beam is fixed focused to infinity. This provides the smallest possible spot over the longest possible distance.
High power – 5 Milliwatts of power assures you of more range to target area, even in adverse weather or when shooting through a series of forward targets.
Ultra-fine horizontal and vertical fine adjust with 64 pitch thread for fast and precise alignment on your set-ups.
Very stable; once set in place, the LaserLine T2000SD stays on your forward target!
The LaserLine T2000SD is designed to accept a tribrach. This is especially beneficial when "leap frogging" to forward points in tunnel work.
In tunnel work as a tunneling laser or mining laser, the LaserLine T2000SD has three times the range (laser spot brilliance and quality), thus reducing the need to move the laser forward.
In marine work, it translates to much greater visibility in adverse weather conditions.
T2000SDG Ultra Bright Green Laser
All the same great features of the LaserLine T2000SD, plus this model is 3-5 times more visible to the eye. Contact us for details.
Accessories
Spotting Scope 6-24x 2000-0525. Variable power from 6-24x objective diameter is 40mm. Field of view varies at 100 yards from 17 feet to 4 feet depending on power setting. Ring mounts are satin chrome steel finish for rust free operation in wet conditions. Use with the LaserLine T2000 series long range alignment laser.
Fan Lens 2000-0035. Changes the laser beam from a spot to a vertical plane of laser light. The fan lens expands the laser beam in the vertical direction at 1320 feet per mile, while maintaining the horizontal width expansion at 4 inches per mile. Use with LaserLine T2000 series long range alignment laser.
Universal Tunnel Mount 2000-10. An ultra solid, yet versatile multi-positioning platform for all models of lasers. The mount gives you the ability to both horizontally and vertically position the laser to the pre-determined point that you require. In addition to offering tremendous versatility for your laser positioning, it is very rugged and stable.
Power Converter 1140. UL Listed converts 110 or 220 VAC to 12 VDC. Internally protected from short circuits and overloads. Resets automatically – no fuses or circuit breakers. Use with all LaserLine models.
Optical Plummet Tribrach 2000-0630. Features universal 5/8 x 11 base plate thread. The range of the optical plummet is 1.5 feet to 50 feet. (0.5m to 15m). The circular level vial has a sensitivity of 10 minutes (2mm). Use with 2000-0620 adapter for the LaserLine T2000 series long range alignment laser.