Salt Brine Making Equipment, Applicators, & Tanks
Batch Brine Systems
The GVM Batch Brine Systems with a 800 or 1500 gallon capacity tank are ideal for lowering operating costs by using readily available materials; granular salt and tap water. The two systems are capable of producing up to 5,000 gallons of brine per hour, depending on the water source. The systems are also designed to be rolled over for easy clean-out.
Direct Application Anti-Icing Systems
MS Foster offers GVM's line of Direct Application Anti-Icing Systems, which are designed to spray anti-icing liquids directly onto road surfaces. DAS units are available in a wide range of sizes, to fit any fleet or budget. DAS units can also be used for dust control on unpaved surfaces.
Blend and Fill Systems
The GVM line of Blend and Fill Systems is also available through MS Foster, with options including the Calcote Fill Systems (CFS), a variety of blend stations, and portable pump transfer stations.
EZ Rider
The EZ Rider from GVM is another line of winter products offered by the experts at MS Foster. With the EZ Rider, you can control ice and snow during the winter months by applying anti-icing liquids before a storm or to apply dry or pre-wet granulated materials following the storm. The EZ Rider is the only self-propelled, stand-on applicator built of stainless steel to minimize corrosion and extend its life. The hydraulic drive allows for variable spinner speeds and a spread width of 3 to 10 feet.
Multi-Grip Tire Handler
GVM's Multi-Grip Tire Handler was designed to allow users to quickly, safely, and efficiently change tires on application units. The tire handler is able to lift and maneuver tire and wheel assemblies weighing up to 2,000 pounds, and from 56 to 80 inches in diameter. Its universal mounting plate allows it to easily attach to any skid steer or front end loader with a universal mounting plate.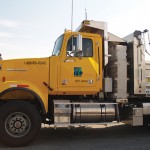 Pre-Wet Application Systems
MS Foster also offers GVM's Pedestal Pre-Wet Systems, which are a multi-functional liquid de-icer dispensing systems designed to pre-wet truck loads of solid de-icing materials. Pedestal Pre-Wet Systems allow you to pre-wet multiple truckloads and multiple trucks with only one dispensing system.