Salt Brine Making Systems
At MS Foster we sell a variety of Salt Brine Making Systems.
Batch Brine Systems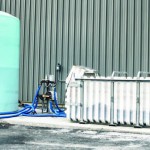 The GVM Batch Brine Systems with a 800 or 1500 gallon capacity tank are ideal for lowering operating costs by using readily available materials; granular salt and tap water. The two systems are capable of producing up to 5,000 gallons of brine per hour, depending on the water source. The systems are also designed to be rolled over for easy clean-out.