RETRAC TRUCK MIRRORS & GRILLE GUARDS
RETRAC TRUCK MIRRORS & GRILLE GUARDS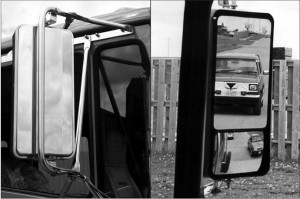 RETRAC is an industry leader in the design and manufacture of high quality mirrors for the trucking industry. From heavy-duty to pick-ups, military to agricultural applications, RETRAC truck mirrors offer a complete selection of products.
Whether you are looking for aerodynamic mirror heads in single or dual vision glass or West Coast mirror heads, RETRAC has a mirror head to meet your needs in heated and lighted formats with a variety of finishes. RETRAC truck mirrors are also available in motorized format to allow for increased visibility, added control and safety, blind spot elimination, all with easy set-up and installation.
For additional safety, MS Foster also supplies convex mirrors from the RETRAC truck mirror line-up in a variety of sizes. Custom assemblies are offered for trucks ranging from Chevrolet/GMC to Ford, Mack to Oshkosh, Union City Body to Crane Carrier. Call MS Foster today to speak to our experts about a mirror that meets your trucks specific make, model, and year. Beyond truck applications, RETRAC truck mirrors also offers mirrors for delivery vehicles, step vans, and school buses.
RETRAC also provide heavy-duty truck, military, agricultural, delivery and bus drivers with an added sense of security with the Tuff-Guard ProTec Grille Guard. This heavy-duty three inch tubular guard is made of stainless steel and can be enhanced with a black powder coating in either 15 or 25 degree bends. With a universal fit and vehicle specific mounting brackets, the Tuff-Guard ProTec Grille Guard provides easy installation with no drilling or front-end modifications needed. The ProTec grille guard offers strong and stylish front-end protection from wildlife on the roadways, while maintaining hood access by easily folding down as needed.
For added protection, MS Foster also offers the Big Rig Grille Guard from RETRAC with a heavy-duty stainless steel three inch and two inch tubular construction and satin finish. The full grille guard can be folded down for easy access to the hood, or removed entirely by removing two pins. With easy installation, no drilling or modification required, the Big Rig Grille Guard is ideal for Freightliner, International, Kenworth, Peterbuilt, and Volvos.
Front end grille guard protection for pick-up trucks is also available in the defender series work truck edition and can be expanded to include cab guard protection, rubber mud guard, and grip stops for added traction and safety.
Contact an expert at MS Foster today to learn about which RETRAC mirror or grille guard application best meets your needs.