Everblades® Heated Windshield Wiper
Everblades® Heated Windshield Wiper

Heated windshield wipers from Everblades work with the existing vehicle defroster system to give drivers a clearer vision for safer driving in adverse weather conditions.
These heated wiper blades contain a heating element inside the silicon rubber squeegee, which is activated through the switch provided in the Everblades wiper blade system. There is another heating element which heats the structure pivot points to help keep the structure ice free as well. The switch can be wired to any vehicle's 12-volt electrical system during the heated windshield wiper blade installation process.
The heated wiper blades are the first successful and proven of their kind with an improved squeegee design. This design is engineered with a silicon rubber compound, an 18 gauge automotive wire, and lighted heavy duty toggle switch to help ensure your heated windshield wipers complete the task at hand.
The properties that enable Everblades to withstand the temperatures generated by the heating element provide you with superior windshield wiper performance year round. The heated wiper blade system from Everblades reach a temperature of 200°F, so even at 40°F below zero, the heated windshield wiper system can prevent ice from accumulating on the blades.
With the flip of a switch the heated windshield wiper system will electrically heat the wiper blades to melt the snow and ice build-up before it freezes to the blades. A calibrated heating element radiates through the silicon rubber wiper blade, keeping it free of ice and snow. These heated wiper blades will clean your windows in cold weather easily and effectively, helping you safely arrive at your destination.
The heated windshield wipers install in minimal time and require only basic tools. This makes the heated wiper blade system one of the most effective systems on the market today. The Genuine Everblades refills are available for 66 and 56HC series models, while complete heated windshield wiper blade assemblies are available for all series.
The 66 series heated wiper blades can be installed on most foreign and domestic cars and trucks from 12 to 28" in length. The 56 HC series is a heavy duty ¼" saddle mount, optimal for heavy duty trucks and buses with lengths from 12 to 20". The 66 series heated windshield wipers offer a universal, automotive style mount with heating frame.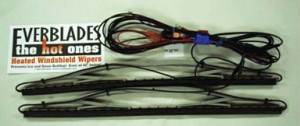 36 Series
Universal, Automotive Style Mounting
For most foreign and domestic cars and trucks and some buses
12″ through 22″ & 24″ lengths
56 HC Series
Heavy Duty (Five Bar) 1/4″ Saddle Mount
For curved or flat windshields on many heavy duty trucks and some buses
12″,14″-16″, 18″ & 20″ lengths
66 Series
Universal, Automotive Style Mounting.
Includes heated frame
Heavier Duty than the 36 series with split rail blade retention
Better on highly curved windshields
16″ through 28″ lengths