EnduraCam
Rugged & Dependable 
The EnduraCam line of cameras is built to meet your rugged rear view and surveillance equipment needs. This line of camera systems is not only durable, but also dependable and completely user friendly. Modeled for industrial, military, and public works markets, the EnduraCam system offers a wide array of focal distances and viewing widths, ranging from 3.6 mm lenses with a 92 degree field of view to a 16 mm lens with a 15 degree field of view.
The cameras from EnduraCam are 100% waterproof, 10G shock and vibration certified, and come with an unmatched three year warranty. Manufactured right in the United States, there is no better camera for the toughest environments. The camera offers 900 NM high intensity LEDs and has an infrared capability of fifty plus feet in 100% darkness. Inside the 100% waterproof triple o-ring sealed housing, there is a triple hardened glass lens and automatic infrared illuminators, protected by an anodized aluminum housing.
Lens Types
The 3.6 mm lens with a 92 degree field of view is optimal for close monitoring of moving parts, the unloading of trucks and semis, material loading and unloading, and serving as a backup camera.
The 6 mm lens offers a 53 degree field of view, suitable for truck or tractor rear views, monitor sprayer booms, large augers and conveyors, unloading spouts, and monitor gauges.
The 12 mm lens with a 22 degree field of view is ideal for surveillance inside of buildings and site security and surveillance, while the 16 mm lens with a 15 degree field of view is best suited for monitoring outside of buildings and traffic.
EnduraCam Kits
The EnduraCam 9 inch monitors are available with or without a built-in quad processor. The 9 inch monitors with the quad processor allow you to view up to 4 cameras simultaneously. Each monitor comes with individual camera triggers, allowing users to activate cameras with a pre-determined action, like backing-up.
For a more compact size, EnduraCam also comes in a 7 inch monitor size. This system also comes with camera triggers for pre-determined events.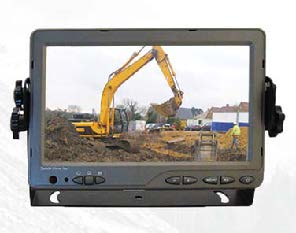 Accessories 
EnduraCam was designed to give you options to use the camera how you desire. We offer accessories to improve functionality, whether that is to record the footage or to view the feed wirelessly.
The variety of adapter cables available with the EnduraCam models allow you to hook into nearly any third party monitor, helping you achieve the right product at the right price.