Voyager® BLIND-Zone™ System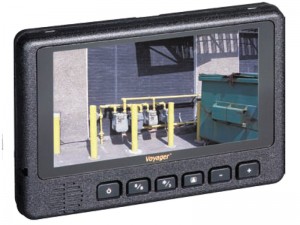 The Voyager® BLIND-Zone System from ASA includes a Voyager® 7" LCD camera monitor, side body camera units and rear camera.
This unique, three camera system helps eliminate blind spots drivers typically encounter when on the road. With the Voyager® BLIND-Zone System, you can more safely and with increased confidence change lanes, pull into traffic, and back up.
If you are looking to increase backup safety and general driver safety when in a vehicle – and reduce expenses and downtime related to truck backing accidents, as well as reduce accidents related to lane changes and lane entry – the Voyager® BLIND-Zone System is the safety system you need.
LCD CAMERA MONITOR
Features include: 7" LCD flat panel color monitor, 16:9 widescreen format, built-in speaker, (3) 12V triggers, slim-line profile, NTSC/PAL compatible, backlit color/contrast brightness controls, and flexible mounting capabilities.
SIDE BODY CAMERA UNITS
When paired with one of our multi-camera monitor options, the Voyager® side body color camera units eliminate blind spots on both sides of the vehicle. Designed for maximum aerodynamics, these side body camera units are easily mounted on any flat surface.
REAR CAMERA
Rear camera features include: Built-in microphone, LED enhanced low-light performance and image orientation selector switch, locking, water resistant cable connector for durability and long life, non-corrosive mounting bracket, stainless steel hardware.