Voyager® Waterproof Monitor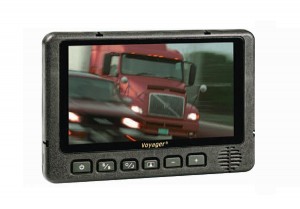 The ideal heavy duty waterproof observation monitor is from Voyager®. When both safety and durability are top priorities, this is the waterproof monitor you need. If you are looking to improve backup safety and reduce truck backing accidents and accidents related to highway passing, this waterproof monitor can help achieve your safety objectives.
It's time you get acquainted with a safety solution that is ready to handle even the toughest heavy duty environments. Unlike anything in the industry, the Voyager® VOM74WP Heavy Duty 7" LCD Waterproof Observation Monitor offers state-of-the-art features that make this unit completely reliable in rugged commercial applications.
The VOM74WP is the most accurate backup and driver's safety device to help eliminate dangerous blind spots and aid drivers in backing up, changing lanes, and pulling into traffic.
With the monitor's four camera inputs, high resolution color images of the vehicle's surroundings can be easily seen by the driver, thus effectively increasing safety and road visibility.
Specifically designed, built and tested with your industry in mind, the VOM74WP waterproof observation monitor features circuit protection, and is enclosed in a completely waterproof housing (IPx5) that enables the monitor to withstand direct contact with water and other harsh conditions commonly encountered in the heavy duty and commercial industries. This waterproof observation monitor can truly help improve driving and backup safety, as well as reduce truck backing accidents and accidents related to lane changes.
FEATURES OF THE VOYAGER® WATERPROOF MONITOR
Engineered for heavy-duty, commercial use
7″ digital color TFT LCD panel
Single image, split-screen, or QuadView view modes
Four camera inputs and six triggers
DC auto source for switching triggers (turn signal compatible)
Waterproof housing (IPX5)
Backlight control buttons
Built-in audio speaker
AMPS and RAIL mounting provisions
Manual/Auto Day/Night display brightness control
Flush-mount installation kit included
CE, FCC,e-Mark certified