LaserLine® Direct Reading Rod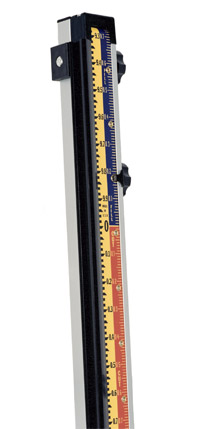 Get the LaserLine Direct Reading Rod. Enjoy the highest quality, largest selection, laser/optical readings rods. These reading rods are tough, lightweight, versatile, and built in Redmond, Oregon – right here in the U.S.A.
Features of the LaserLine Direct Reading Rod:
Aluminum front and rear rods
Made of high strength clear anodized aluminum for lightweight, rugged, dependable operation. These reading rods will not rust, split, splinter, swell or warp in any environment.
Tape has heavy duty matte textured face
The reading tape is easy on the eyes in bright sunlight. Protects the tape numbers on the reading rod from wear and fading.
Tape lock grommets are oversized, heavy duty brass
Greatly minimizes the problem of tape tearing.
Detector rail is black, high density, U.V. stabilized for long life
Specifically designed to not become brittle when exposed to ultraviolet rays or direct sunlight, this reading rod detector rail is tough and durable.
Solid tape lock with internal brake slide
Provides for stronger, trouble-free, longer life reading rod operation.
Tape lock pin cannot puncture tape
Designed not to tear, puncture or rip the tape when pushed against the tape face instead of the grommet hole.
DuPont nylon parts
Tough and rugged for long-lasting life. The materials used in this reading rod are the same used for ski bindings and motorcycle parts.