LaserLine GL3000PM Paint Striping Laser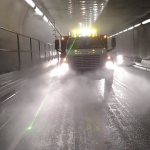 LaserLine Guidance Laser for Highway Road Paint Striping
The System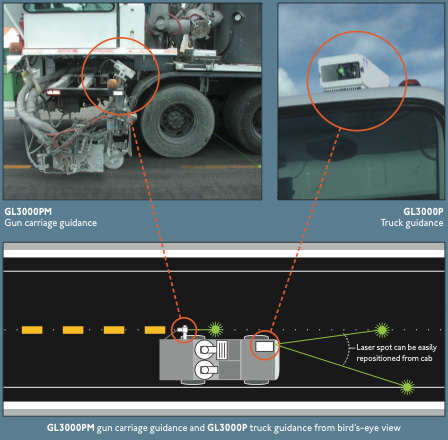 The Laserline GL3000-series  laser striping system (GL3000PMC) uses an ultra-high visibility green laser to establish visual line control for your road paint striping truck or gun carriage package.
Depending upon the LaserLine model, the paint striping operator adjusts the guidance laser spot to the desired reference point on the road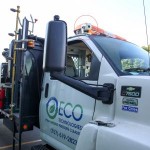 surface using a remote control panel located within the cab of the vehicle or manually at the laser. The guidance laser spot is impacted directly on the road surface and shows the operator exactly where the vehicle is, relative to "on line." The guidance laser spot is on the road ahead of the paint striping operator so that the reference is in the driving field of view instead of a T.V. screen or boom pointer.
This LaserLine laser striping system is quick to set up and easy to use.
The Product
Main Housing is weatherproof, containing an optic plate mounting platform, micro processor electronics, laser, laser mounting assembly, laser driver board, automatic cooling and heating system, and in the remote version, X-Y positioning control mechanism, drive motors, and optics. The entire unit is dry nitrogen purged to protect all components.
20 Feet of Interconnect Cable with a waterproof, mil spec, in-line connector mounted between the laser main housing and the control panel mounted in the cab.
Control Panel allows the operator to turn the unit on and off on the manual version, as well as aim the laser spot toward or away from the vehicle, as well as left and right, on the remote control version.
5 Feet of 12 volt DC cable running from the control box for connection to vehicle's 12 V power.
Specifications
Laser: 532nM Class IIIA Green Laser
Power: 11-15 Volt DC Positive or Negative Ground
Power Draw: 4.00 Amps (Maximum Operating), 0.03 Amps (Sleep Mode)
Laser Housing GL3000P (Remote):

Height: 6 1/8 Inches
Length: 12 Inches
Width-Housing: 6 1/2 Inches
Base: 9 1/2 Inches

Laser Housing GL3000PM (Manual):

Height: 4 1/2 Inches
Length: 9 Inches
Width-Housing: 3 3/4 Inches
Base: 4 1/4 Inches

Cable length from Laser Housing to Control Box: 20 Feet
12 Volt Power Cable Length from Control Box: 5 Feet
Shipping Weight: 25 lbs.