National Seating
Reliable Comfort
Sit in comfort and style with medium and heavy duty truck seats made by National Seating and available through MS Foster. With various styles available, National Seating and MS Foster are sure to have the perfect option for your driving situation.
BackCycler® Benefits
National Seating has developed specialized technology that has proven to relieve muscle and ligament strain, improve circulation, and reduce disc pressure and compression during truck hauls.
Long Haul
Made for longer trips, we offer the Admiral CT and the Admiral. The CT comes with a seating ventilation system to circulate air through the cushion and backing to help moderate temperature. The seat also boasts an air suspension system that buffers your body from the shock and vibration of the roadway, reducing the strain and fatigue from trips.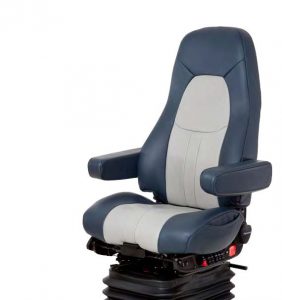 The Admiral model also comes with BackCycler with adjustment modes for lumbar, rear cushion tilt, thigh extension, and a long nine inch track with  swivel. These modes allow for customization to fine tune your comfort level throughout the drive with a heated seat feature for cooler temperature areas.
Regional
Our long-haul and regional models from National Seating at MS Foster include the line-up of Commodore and Premium seats, known for their performance and use in fleet vehicles. The Commodore model comes standard with air suspension for best-in-class road vibration dampening to improve comfort with larger back and cushions for additional support. Both models come with the National Seating BackCycler technology for continuous movement to ward off pain and stiff back. The Premium model from National Seating at MS Foster has a dependable design with adjustments for air lumbar, air bolsters, seat tilt, and thigh extensions.
Local
MS Foster also carries National Seating for fleet comfort and durability on local trips for medium and heavy duty trucks with the Captain and Ensign models. Both seats are ergonomically developed with model 95 suspension for buffering comfort on the roadways. The Captain is available with high, mid, and low back options, so you can choose the seat style ideal for your environment. The Ensign model also has high, med, and low back options with an adjustable recline, track position, and high extension for comfort for multi-driver vehicles.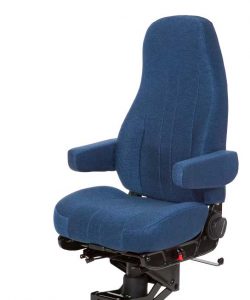 Find your Comfort
With National Seating from MS Foster, you can customize your comfort level, while selecting for style with various colors and material types.
Contact MS Foster today to find your ideal seat.