Portable Arrow Boards
MS Foster is proud to carry American Signal Company's line of portable arrowboard panels, featuring an all LED 15- or 25-lamp trailer mounted display. The boards from American Signal Company through MS Foster are equipped with high wattage solar panels and a low maintenance battery bank. These arrow board panels are ideal for promoting motorist awareness and maintaining work zone safety in both highway and urban scenarios.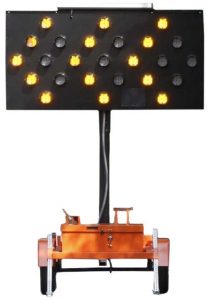 The portable arrow board panels come standard with:
A one-mast structure for easy transport
A heavy-duty steel frame
Superior footprint for maximum deployed stability
Power management capable of operating over 50 days on batteries
A simple and secured hand-held controller in a lockable cabinet
The signs are available in two sizes: 3 feet x 6 feet or 4 feet by 8 feet to ensure visibility with flashing and sequential arrows, a double arrow, flashing and sequential chevrons, a caution bar, cation beacons, and alternate diamonds.
Additional features can be added, including:
Wireless controller
Multiple towing hitch options
Expanded battery bank for greater run-time
Colored trailer options
Tandem towing package
Security measures, including locking lug nuts and a cabinet hidden clasp lock 
Contact us today to find out how you can maintain work zone safety and enhance motorist awareness.