Portable Message signs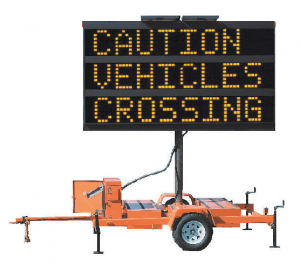 PORTABLE CHANGEABLE Character Matrix Message Signs
Are you looking to get your message out – loud and clear, wherever you may be, anytime of the day or night? These portable message signs are the answer. Programmable signs and sign trailers that go where you need them to be! Whether you are looking for a work zone sign, safety zone sign or a truck mounted sign, these matrix message signs are the ideal solution.
The innovative Dynapoint® Optical Technology, in combination with proven ultra-bright, wide angle (17°) ITE amber LEDs, provide enhanced visibility and legibility in both daylight and nighttime conditions. These are quality LED signs that clearly display your message.
The AMSIG CMS-T331 has enhanced legibility, is cost effective, requires low maintenance, is easy to operate, and is built to last. You just won't find better quality matrix messaage signs and LED signs.
These programmable matrix message signs are solar powered too, making them among the best solar signs on the market today. The AIMSTAR™ Adjustable Solar Assembly allows the user to adjust the solar assembly to face the southern hemisphere and achieve up to a 100% increase in available solar recharge power (dependent upon location). Solar signs can also help reduce costs for ongoing sign usage over time as well.
If you are looking for quality, portable message signs including sign trailers – or programmable signs for your work site such as a truck mounted sign, work zone sign, and safety zone sign – the CMS Series 300 programmable signs are for you.