Bee Line Computer Alignment and Frame Correction
Bee Line introduced laser technology to the trucking industry in order to achieve the most accurate wheel alignment measurements possible. With laser measurement to 1/1000th of an inch, these systems will produce the accurate results you demand.
Servicing the Illinois, Indiana & Michigan Areas
Computer Alignment
LC 7500 Series Laser Guided Computer Alignment
The LC7500 continues the excellence of laser accurate measurements up to 1/1000th of an inch. The LC7500 computer alignment system instantly produces live measurements that are consistently repeatable. When making corrections, live readings serve as the guide to bring the vehicle into the optimum alignment position. This system provides laser alignment accuracy so precise, that it comes with computer alignment specifications that align vehicles better than the O.E.M. specifications!
A self reliant laser alignment system. Bee Line gives you the ability to maintain the precision of your computer alignment system. Unlike our competition, our entire laser alignment system can be calibrated in just a few minutes by virtually any technician in your shop.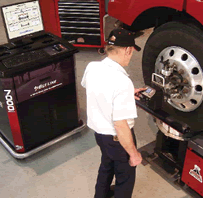 WindSpeed 7500 Alignment Software will remind the technicians to calibrate on regular intervals that are based upon your work load. There is no downtime waiting for a service rep to maintain the accuracy of your laser alignment system. With your own Bee Line laser guided computer alignment system, your alignment business is backed by the best warranty in the industry.
Software that adapts to the user. WindSpeed 7500 Computer Alignment Software has the capability to assist beginners with pop up reminders, extensive help screens and help videos; more experienced technicians have the option to customize their workflow to fit their skill level. When wheel alignment (wheel balancing) is complete, detailed before and after color documents are printed for the customer. Comprehensive database management options give your shop the ability to save and recall previous wheel alignment (wheel balancing) jobs.
22000: Portable Aligner  (Rear Axle)
The Bee Line 22000 Portable Aligner (Rear Axle) is so versatile it can be taken directly to your customers' shops, terminals or wherever they might be located. The 22000 is constructed of lightweight, durable and strong aluminum, making it easy to transport. Each Portable Aligner comes with the laser assembly built into the rear channel. This reduces the risk of damage to your equipment while transporting to different locations. The system is powered by a twenty hour rechargeable battery.
Frame Correction Systems
Bee Line is number one in heavy duty truck repair equipment and truck frame straightening, with more truck frame machines operating in the U.S. than all of the competition combined. Bee Line frame straightening equipment is the only complete chassis and suspension correction system for heavy-duty vehicles and trailers of all types. The Bee Line frame correction system is considered to be the most accurate and efficient chassis and total frame correction system available. Bee Line's Frame Press will help you diagnose frame correction needs and remove any issues like sags, side-sways, twists, or diamonds.
Standard Truck Frame Press
Works in conjunction with A.A. Runways. The Bee Line Frame Press was designed to be very operator friendly. By utilizing alignment runways, you can easily drive any vehicle onto the frame press. With the truck or trailer now at the proper elevation, excess runway sections can be removed. Working at a convenient height creates less strain on an individual, reducing the chance of injuries to you or your employees. Choose from 28', 36' or 40' models.
For more information on Bee Line heavy duty truck repair equipment or the Standard Truck Frame Press, please request a catalog by calling 1-888-452-4053.
Bee Line also offers a complete line of heavy duty truck lifts to fully outfit your shop. Part of their complete line of heavy duty truck repair equipment, Bee Line lift options include: truck lifts, post lifts, four post truck lifts, target lifts, whip lifts, portable lifts and more. When your shop needs dependable, heavy duty truck lifts, you can trust Bee Line to provide the rugged equipment you need to get the job done right.