Bee Line Space Saver Approach Ramp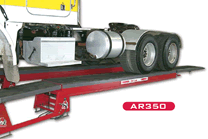 If floor space is at a premium in your shop, as it is in most shops, the Bee Line Space Saver Approach Ramp is what you need.
Bee Line has designed the Space Saver Approach Ramp to be installed in a smaller area than a standard ramp alignment system by reducing the total number of machine sections required. The design of the Space Saver Approach Ramp allows a major portion of the ramp to be raised hydraulically to an operating level equal to the height of the Advanced Aligner Runway, placing the vehicle at a convenient work height. This truly is one of the most innovative alignment runways sold today.
If you lease your facility, then the Bee Line Space Saver Approach Ramp is a must for you. Since a pit system is fixed and immobile, and the Bee Line system can be moved from facility to facility, you do not need to worry about losing money from the investment in the pit installation being left behind if you relocate. In essence, this approach ramp becomes an integral part of your entire portable aligner system.
The Bee Line Space Saver Approach Ramp also eliminates the problems associated with pit drainage, pit leakage, and soil contamination, making EPA compliance much easier.
The Bee Line Space Saver Approach Ramp System is another example of how Bee Line continues to set the standard for wheel and frame alignment in the heavy-duty trucking industry. If you have been searching for more portable aligner solutions, these Space Saver alignment runways are for you!
Approach Ramp Advantages
Ramp length allows low profile busses and RV's to drive onto these alignment runways without bottoming out. The incline has been lowered over 2 degrees from our previous Space Saver model!
The Space Saver Alignment System is located totally above ground adding these great benefits:
Easier to maintain and clean
No air circulation requirements
No water problems associated with pits
No exhaust fan requirements
No building permits, digging or EPA considerations – making for a cleaner, more portable aligner solution
Lessen insurance and injury worries