Good to Go Bed Alarm
Light & Sound Warning System
MS Foster offers the innovative line-up of Good to Go truck bed alarm systems, which continuously monitor and alert unsafe positioning of dump boxes, lift buckets, and booms. The alarm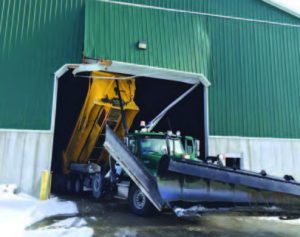 systems are configured to ensure operators are aware when a truck's components are retracted. The alarm systems are customizable for speed control warnings, mute time, beep frequency, light flash frequency, park brake position, and output to external horn.
The Good to Go system offers two stage light and sound alarms, configured to emit pulsed and continuous signals based on vehicle speed and extendable component position. The alarm system is hard wired in and automatically alerts if signal is lost for any reason. The constant 12 volt output connects to internal or external warning devices. the interior installation element requires minimal space inside the cab and enclosed in a highgrade ABS plastic.
The Good to Go Extendable Component Warning System is ideal for:
Dump Trucks
Roll-off Container Trucks
Sewer Suckers
Double Boom Buckets on Hydro Utility Trucks
Drillers & Augers 
Concrete Throwers
Cranes & Outriggers
Excavator Buckets
Extension Ladders
Pup Trailers
Whether looking at the elite or the basic configuration, the Good to Go Alarm System has everything you need to improve safety and eliminate unnecessary repairs from damage caused when in extended positions.