Moto Mirror
MS Foster is proud to offer the complete line of Moto Mirror truck mirrors; the ideal vision solution for trucks of all makes. Each system is equipped with a unique motorized, horizontal head movement and superior construction for improved visibility over manual or simple glass movement mirror heads. Because each truck set-up is unique, we pride ourselves on offering a variety in the series, including the Traditional, Aero, Moto4, and Moto4 Plus.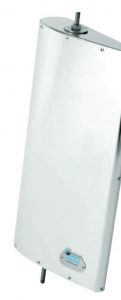 Traditional Series
This is the classic in the MotoMirror series with a 1/4 inch thick stainless steel housing, single piece gasket, and rotating head. This model can give you the visibility you need when operating in tight spaces. The Traditional Series mirror heads are available for driver and passenger sides with or without a harness.
Aero Series
Much like the Traditional Series, the Aero Series is also equipped with a 360 degree horizontal axis, ruggedly constructed rotating head. This model comes standard with a tear drop slope, similar to the wing of a plane, built for work and safety.
Moto4 Series
This series adds vertical glass movement, while retaining the tough and stylish exterior with a heavy duty stainless steel shell. Using this mirror will allow you to see the distance and give you complete visibility left and right, as well as up and down.
Moto4 Plus Series
The Moto4 Plus maximizes your visibility, equipped with the unique horizontal rotating head and vertical glass movement, along with an added rectangular convex mirror. This custom feature allows the convex view to follow you as you rotate the mirror head left and right, enabling you to operate with confidence in tight spaces.
Contact us today to learn how you can benefit from a MotoMirror truck mirror.