RoadWatch Road Surface Temperature Sensors
RoadWatch Road Surface Temperature Sensors From M.S. Foster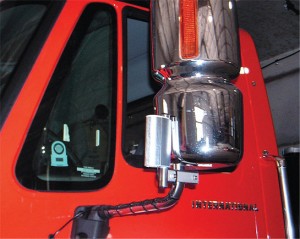 Road surface temperature sensors from RoadWatch Bullet use state-of-the-art infrared measuring, which assures accurate, real-time road surface temperature information critical to proper deployment of anti-icing and de-icing materials. With RoadWatch Bullet, the pavement temperature sensors create an alert of existing hazardous conditions for driver safety.
The RoadWatch Bullet, formerly the RoadWatch SS Road Temperature Measuring System, can accurately detect a one-degree change in road surface temperature in one-tenth of a second. An early warning system using pavement temperature sensors within the RoadWatch Bullet system alerts the driver when the road surface temperature dips below 37 degrees Fahrenheit. RoadWatch Bullet's pavement temperature sensor system was originally developed to assist highway and public works departments determine when and where to apply road treatment chemicals, however, this innovative road surface temperature sensor can benefit all drivers and improve highway safety.
The road surface temperature sensor system,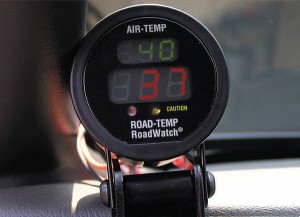 RoadWatch Bullet, is already in use throughout North America and Europe. The pavement temperature sensor system uses its unique, early warning road and temperature sensors to tell city and highway departments along with airport officials when to treat road surfaces if hazardous driving conditions are created using the unique infrared temperature sensor to monitor road and pavement surface temperatures.
Also check out the Roadwatch Field Calibration Unit
RoadWatch Bullet provides users with an unmatched reliability, approved performance of road treatment chemicals, while providing constant feedback on road surface temperature conditions. The road surface temperature sensor system can operate alone or can be integrated into other vehicle controls with easy installation. To protect the sensors monitoring the road surface temperature, the sensor is fully enclosed and has been environmentally tested to provide durability under extremely cold temperatures. The pavement temperature sensor operates in conditions from -40 to 150ºF.
Details
If you already own a RoadWatch SS pavement temperature measuring system, the new RoadWatch Road surface temperature sensors offer backward compatibility, allowing you to purchase the sensor to connect with your existing cables, connectors, displays and converters. This allows you to stay up-to-date with the latest road surface temperature sensors without the added cost of a complete road temperature system.
Road Watch® Bullet is Designed for Zero Maintenance. Road Watch® Bullet is The Cost Effective Answer
Road Watch® Bullet Technical Specifications:
Road Accuracy:

±2°F (23 to 41°F Ambient)
±6°F (-40 to 23°F, 41 to 131°F Ambient)

Air Accuracy: ±2°F (-40 to 131°F)
Repeatability: ±2°F
Emissivity: Factory calibrated at 0.96
Field of View Angle: 15°
Operating Voltage: nominal 12 VDC (vehicle power)
Current Requirement: 0.05 Amp
System Operating Temperature Range: -40°F to + 150°F
Sensor Sample Rate: 10 samples per second
Display Response Time: 1/2 second, immediate peak response
Weight: Sensor, 11 oz., Display, 3 oz.
Vibration: 4 g's two axis, Sensor and Display
Relative Humidity: 95% Non-condensing
Shock: 100 g's I/R sensor element
Road Watch® Bullet Accessories
12 Volt Quick Connect Power Cable
P/N MSF 3269-00
Fuse protected Display; quick connect cable. Color-coded
Bullet terminals with strain relief locate over power studs
Opposite end stripped and tined. Length: 6 ft.
12 Volt Vehicle Power Cable
P/N MSF 270-1559
Plugs into cigarette receptacle for quick installations
Color coded bullet terminals with strain relief locate over
Power studs providing positive attachment. Length: 8 ft
Suction Cup Window Mount
P/N MSF 3275-00
Alternate mounting for Trucks or Cars.
Compact Sensor mounting with quick release tabs.
Provides instant system attachment
Magnetic Mount
P/N MSF 3291-00
Alternate mounting for Trucks or Cars.
Compact Sensor mounting.
Provides instant system attachment.
Sensor Mounting Bracket
P/N MSF 112-0040-000
Alternate mounting for trucks.
Sensor mounting for behind the sleeper or on the frame.
Mini "C" Mount
P/N MSF GB-12
Alternate mounting for trucks or cars.
Stainless steel, 11 inches long x 2 inches deep.
Display Mounting Bracket
P/N MSF 6881
Standard "L" instrument mounting bracket.
For top of dash or bottom edge of dash installation
Display Mounting Pedestal
P/N MSF 9925
Display sets inside molded pedestal for enclosed
Dash top installation. All hardware included.