LaserLine® Snowplow Laser Guide
LaserLine® Snowplow Laser Guide
The use of the LaserLine® Wing Plow Guidance Laser -GL3000PMC  helps to avoid costly property and plow damage which results in reduced downtime. It is clearly the safer way to plow.
The Snowplow Laser Guide System
The snowplow laser guide, LaserLine laser wing plow guidance (model number GL3000PMC), helps city and state highways departments avoid costly damage to property and plows. The damage is avoided while also reducing downtime and improving safety with the unique snowplow laser guide.
The LaserLine wing plow guidance laser uses an ultra-bright green laser spot to establish the wing plow trailing edge location prior to arrival at that point. The snowplow laser guide is displayed on the road and/or snow surface ahead of the snowplow wing to show provide the snowplow driver with a reference spot in the road within the driver's field of view.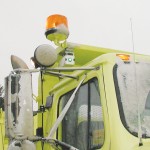 Laserline snowplow laser guide is designed for cold weather operation. The laser snowplow guide is coupled with a special heat source and pneumatic air puffer for the exit window to reduce or eliminate ice build-up on the front of the laser output lens for the displayed snowplow laser guidance system.
LaserLine wing plow guidance laser leverages a class IIIA ultra bright green laser with 5mW of power. Green is the most visible to the eye in all working conditions, which is why it has been implemented on the snowplow laser guidance system. The snowplow guide's laser is CFR21-1040 compliant and meets all federal and OSHA standards for operation. The snowplow laser guide is weatherproof, hermetically sealed, and dry nitrogen charged for operation in virtually any weather condition.
The LaserLine wing plow guidance laser system works directly off the 12-volt side of truck, and will operate from 11 to 15 volts DC with positive or negative ground.
The snowplow laser guide, LaserLine, is a versatile, all-weather product that can be used for guiding highway paint stripers, asphalt distributors, pavement profilers, or virtually any other vehicle or equipment requiring line control. Use it in the winter and summer for all of your laser guidance needs.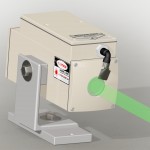 The LaserLine® Snowplow Laser Product
Main Housing
Weatherproof, containing optic plate mounting platform, micro processor electronics, laser, laser mounting assembly, laser driver board, automatic cooling and heating system; front window is automatically heated to reduce or eliminate icing.
Pneumatic Air Blast Module
Removes snow build up from laser exit window with automatic air blast every five seconds.
Control Panel In Cab
Allows the operator to turn the laser on and off as well as override the automatic air blast if more air is desired for snow removal.
20 Feet of Interconnect Cable
With waterproof mil spec-line connector mounted between the laser main housing and the control panel mounted in the cab.
5 Feet of 12V DC Cable
Running from control box for connection to vehicle's 12V DC power.
20 Feet of ¼-Inch Pneumatic Hose Line
Complete with connectors for tying into vehicle's secondary air source.
LaserLine® Specifications:
Laser: 532 NM Class IIIA Green Laser
Power: 11-15V DC Positive or Negative Ground
Power Draw: 4.0 Amps (Maximum Operating), 0.03 Amps (sleep Mode)
Operating Temperature: -40° F to +50° F (-40° C to +10° C)
Pneumatic: 120 PSI / 12V DC Operation
Laser Dimensions:

Height:  4½ Inches
Length: 9 Inches
Width (At Widest Point): 6 Inches

Cable Length from Laser to Control Box: 20 Feet
12V Power Cable Length from Control Box: 5 Feet
Pneumatic Hose Length (Laser to Air Source): 20 feet
Shipping Weight: 25 lbs
See the LaserLine GL3000PMC Wing-Tow Plow Guidance Laser in action